529-05 GTS-50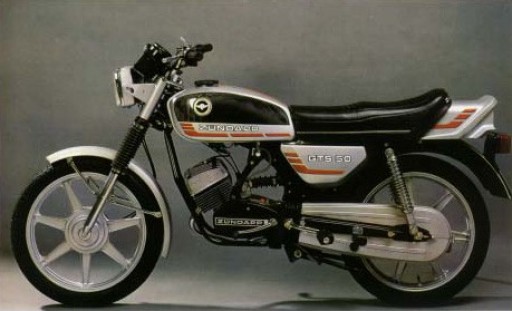 Build year: 1977
---
Zundapp 529-05 GTS-50 (1978-1983) No disc brake, just two 150 mm drum brakes. Know from experience that these brakes great, if the shoes are on the drum. Modern moped for many kilometers. Pay attention to the rust of the buddy and replace the swingarm sliding bushes. Applies to all 529 and 530 types. Issue date NL approval is 1977. 4-foot switched 280 engine:
Motor 280 Type: single-cylinder two-stroke. Construction :: Block construction with attached gearbox. Cylinder capacity: 49.9 cc. Bore: 39 mm ø. Stroke: 41.8 mm. Compression ratio: 1: 6. Cooling: Wind cooling. Lubrication: Mixer lubrication 1:50.
Carburetor Brand: Bing. Type: 1/10/140. Main jet: 58.
Electrical installation: Brand: Bosch. Type: Flywheel / magnet light and ignition system. Power: 6 Volt 33 Watt. Spark plug / Heat: 175 (Bosch W7A). Duplolamp: 6V 15/15 Watt. Rear lamp: 6V 4 Watt. Stop lamp: 6V 5 Watt. Instrument lighting: 6V ... Watt.
Frame: Construction: According to special process under high-pressure cast light metal. Suspension for: Telescopic fork. Oil filling per spring leg: 70 cc SAE 20. Rear suspension: Float arm with Hydaulic damped spring elements. Adjustable: yes .. Tire size: 2.75 x 17 ".
Brakes: For: Volnaaf drum brake. Diameter: 150 mmø. Rear: full hub drum brake. Diameter: 150 mmø. Gas tank: Total content: 13.5 liters. Reserve: 2.4 liters. Sizes and Weights: Empty weight approx .: 90 KG. Permitted total weight: 255 KG.
General GTS-50: The GTS-50 is a moped model from Zündapp and was produced from 1972 (as 517 type) until the bankruptcy of Zündapp in 1984 in various versions. Air cooling was usually used, but in Germany the GTS with the 284 engine could be delivered from 1978 in a special version (Sondermodell) with 5 gears. The latest versions received in 1984 the water cooled and mirrored 284-210 engine with 5 gears and a 280 cylinder with 2.9 hp as a moped model. Not delivered here in the Netherlands. On the home market in Germany, the GTS-50 was delivered with the 284 engine as KKR (Klein Kraft Rad). The abbreviation GTS stands for Gussrahmen-Touring-Sport (Casting Frame Touring Sport). Finally, as a model 540, the GTS-50 was delivered with a new engine. This modern engine, type 314, had a claw-switched gearbox. The model 540 was only delivered for half a year, just before Zündapp GmbH went bankrupt. The phenomenal engine block 314 could not prevent this either.
---