429 Super Combinette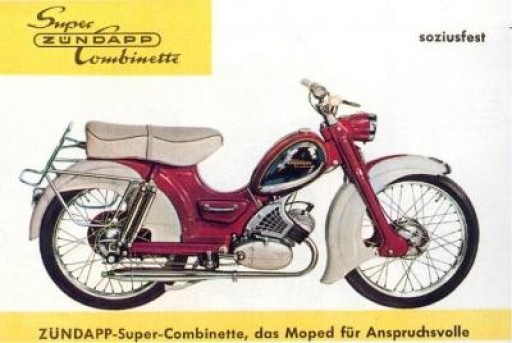 Build year: 1959
---
The construction series 428 and 429 has transported many Zündapp enthusiasts. Just like the Volkswagen Beetle, these types were used extensively. They helped to ensure that the Wirtschaftswunder could take place in Germany.
 Motor type: 266 single-cylinder two-stroke.  Construction: Block construction with attached gearbox. Speedometer cable driven from engine block.  Cylinder capacity: 49.9 cc.  Bore: 39 mm ø.  Stroke: 41.8 mm.  Compression ratio: 1: 7  Cooling: Rijwind  Lubrication: Mixer lubrication 1:25 1.6 HP / 4800 U / min v.a. 10/59: 1.95 HP / 4500 U / min v.a. 12/59: 2.0 HP / 4500 U / min  Carburetor Brand: Bing.  Type: 1/10/67  Main jet: 52  Needle sprayer: 2.17  No. of spray needle:  Needle position: 3 from above  No. from Gas Slider:  Electrical installation:  Brand: Bosch.  Type: Flywheel / magnet light and ignition system.
Base plate Bosch ignition with Noris ignition coil is 4.3 mm smaller than a later model Bosch base plate for eg the 517/529 Ignition coil screw holes are 51.5 mm apart, less than a later model ignition coil. The crankshaft is 15 mm instead of 17 mm for the later types.
 Power: 6 Volt 17 Watt.  Spark plug / Heat: Bosch W225 T1  Electrode distance: 0.7.  Ignition timing: 1.8-2 mm for upper dead center.  Headlight: 6V 15 W  Rear lamp: 6V 2 W  Stop lamp: no  Instrument lighting: no  Indicators: no  Gear box:  Construction: pulling ball circuit  Number of Gears: 3 Manual  Gearbox oil and Quantity: 300 cc SAE 80  Drive on: Rear wheel.    Frame:  Construction: According to special process under high-pressure cast light metal.  Suspension for: Adjustable swingarm  Rear suspension: Float arm with 4 hydraulically damped spring elements. (double)  Adjustable: Yes, the front two shock absorbers of the rear suspension can be disconnected. With passenger to turn on again.  Tire size: 23 "x 2.5"    Brakes:  For: Volnaaf drum brake.  Diameter: 90 mmø.  Rear: full hub drum brake.  Diameter: 90 mmø.  Gas tank:  Total content: 7.3 liters.  Reserve: approx. 0.5 liters.  Sizes and Weights:  Empty weight approx .: 54 KG  Permitted total weight: 230 KG
---